Stainless Steel IBO Self-Drilling Anchor
Stainless IBO Anchor Bolt is a good reinforcing material to be used for permanent support works.
It provides the optimum combination of strength bond and corrosion resistance suitable for any rock bolt or ground anchor application.
Applications include: Support of water diversion tunnel, Permanent soil nailing timbering, Slope support, etc.
Stainless IBO Anchor Common Types: R25, R32, R38
Stainless IBO Anchor Bolt Technical Data
Technical Data
Steel Garde
AISI 316 stainless
Elongation
20%
Typical lengths
3000 mm, other lengths on request
Thread
ISO 10208, T thread on request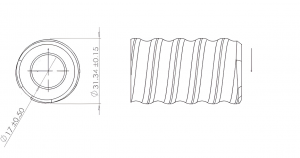 Stainless IBO Anchor Bolt Technical Data
| Anchor Bolt Size | R25 | R32 | R38 |
| --- | --- | --- | --- |
| Outer Dia. (mm) | 24.74±0.15 | 31.34±0.15 | 37.99±0.15 |
| Inner Dia. (mm) | 12±0.5 | 17±0.5 | 19±0.5 |
| Ultimate Strength (kN) | 200 | 320 | 400 |
| Nominal Weight (kg/m) | 2.5 | 3.6 | 5.3 |