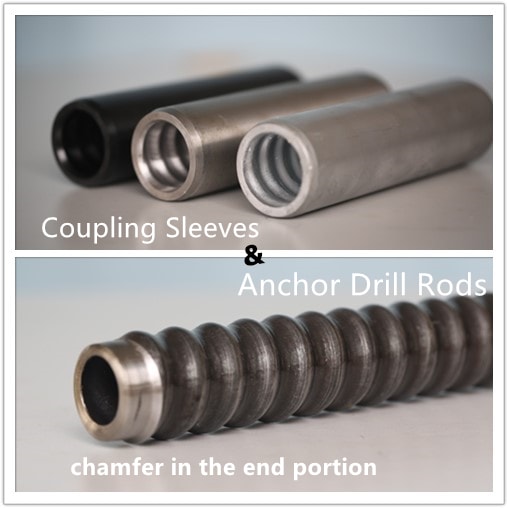 As a manufacturer of self-drilling anchor bars, Onton always pays attention to products from European famous factories.
Recently I found one of their hollow bar anchors are a bit different in the terminal chamfer. I won't evaluate how their process mode is, but will tell why we make the chamfer like this.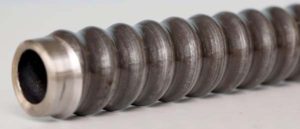 The normal length of self-drilling anchors is 3 to 9 meters. In order to increase the drilling depth, bolt connecting sleeves are applied.
The coupling sleeves is formed with an internally thread to be screwed with the drill bolts. But in order to limit the bolt screwed in the connecting sleeve of depth, the coupling sleeve is designed to have two internal thread segments. The distance between the two segments is a pitch.
The rock bolts, drill pipes and others mutual screwed up. Such drawback is due to the bolt connecting means adjacent to but not directly about through the coupling, so that, considering the high loads, particularly in drilling and drilling bolt grouting while the transmission loss generated by the shock at the time of erection.
Each batch of Self-drilling anchors from OntonBolt is processed to be formed with a chamfer in the anchor end portion. Each chamfered surface extending from a lateral direction of the anchor bolt to the end surface. Thus, the two screw-bolt connection only within the sleeve a chamfered surface rests with its head end connected to the sleeve of one of the two thread segments.
Through this design, the anchor of its end face each other directly abutting, so in the absence of proper transmission loss will force a bolt passed down from the next one. It highly decreased the force to coupling sleeves. Accordingly, during drilling can guarantee proper force transfer, and enables the connection sleeve does not rotate during drilling.
In conclusion, the end chamfer process is reasonable and effective. It's a detail of industrial product. We'd like to discover such beauty of details so that we can make better hollow bar anchor products.
If there are opinions on this theory, I'm happy to hear from you.